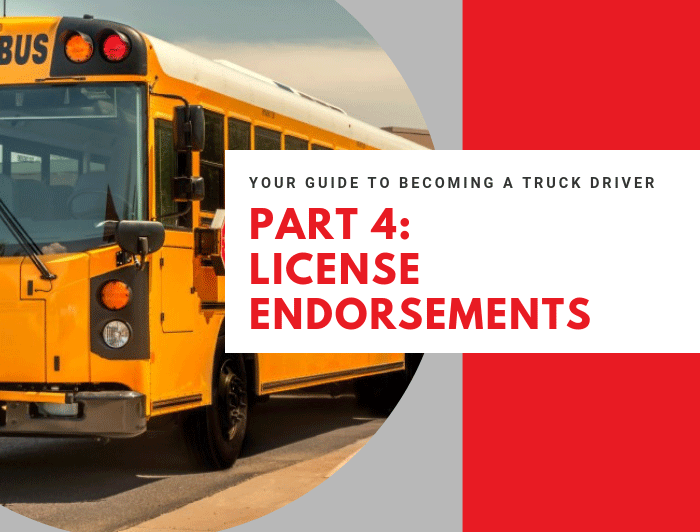 What are CDL Endorsements
Your Guide to Becoming a Truck Driver: Part 4
CDL Endorsements Increase Your Skills and Job Opportunities
The Commercial Drivers License (CDL) you obtain from Georgia Driving Academy will only allow you to drive a single trailer vehicle. As you have heard in CDL class training, endorsements are additional, acquired certifications that prepare and qualify you to transport certain types of loads.  Found on GEORGIA GOV under "Commercial License," you find the "License Endorsements" that will allow you to drive different types of loads, as illustrated by the FMCSA.
"C – For Hire" – Georgia requires anyone, even CDL drivers, driving for a limousine company must have this level of endorsement.
"P – Passenger Vehicles (sixteen or more, including the driver)"
"H – Hazardous Materials Haulers" – You have the authority to haul hazardous materials
"S – School Bus (no qualified for Permits)" – You can legally drive a school bus.
"T – Double/Triple-Trailers" – You can legally pull multiple trailers at the same time.
"N – Tank Vehicles" – You are allowed to haul liquids or gas that are otherwise restricted.
"X – Tank Vehicle + Hazardous Material" – You are certified to haul tanks with hazardous materials.
Be in Higher-Demand with One License Endorsement or More
The more qualified you are, the more truck driving opportunity you will have coming your way. You will find good advice on Smart Trucking. As you will read, "getting a CDL endorsement or taking continuing education courses can give your resume more appeal," and also bring you a higher-paying job.
So which endorsement should you get? That's up to you as an individual, but many truck drivers recommend getting all of them. Endorsements make you much more valuable to a trucking company because you can perform tasks that not everyone can perform. Employers like that kind of flexibility, and when it comes to being in the job market, vault you to the front of the line when it comes to desirability. Think about it: if you run a large outfit, and you see two similarly qualified applicants, but one can haul double trailers and do HAZMAT, which one has the advantage?