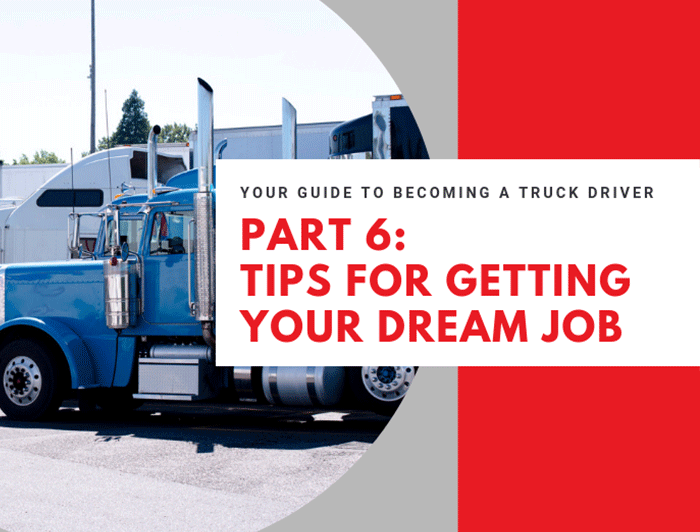 Tips for Getting Your Dream Job
Your Guide to Becoming a Truck Driver: Part 6
Congratulations on earning that CDL! Now, what is the next step? Finding a job? The thought of getting a job may be overwhelming, but don't stress. Here are some tips that could help you find your next career path.
1. Use Job Placement Services:
It is likely that your truck driving school provides job placement services to their students. You can contact your driving school to find out more information. These job placement services are put in place for your benefit, so do not let them go to waste. Driving schools usually have relationships with certain employers because they want their students to succeed. Job placement services could potentially give you a leg up from the competition.
2.  Use Online Job Resources
There are multiple online sites that can help you get a better understanding of the industry and what jobs are available. Job boards and online job-hunting sites can help you compare pay rates, job requirements, and company standards. Additionally, these sites usually have an application process built into their programs to make applying for jobs easy.
3. Apply!
The most important thing to remember is that the worst someone could say is "no". Do not let the fear of getting a "no" keep you from applying. Most employers will not take the time to seek you out. You will need to do the leg work and diligently be on the lookout for job opportunities that look interesting to you. The more jobs you apply to the better chance you have of receiving an interview.
4. Nail Your Interview
The key to landing an interview, and then a job, is to make sure that they know why you are the best candidate for the job. Dress well and be prepared to talk about your strengths. You must sell your strengths to your interviewer, and explain why you are the person they should choose for the position. Using personal experience, giving strong references, and being relaxed can really work in your favor. Be confident in your abilities, know what you know and don't know. Answer with confidence. Be sure to stand out in a positive way. Drawing attention to your added skills means you will draw the attention of more trucking companies. It will also set you apart from other applicants.
5. Know Your Worth
Do not let a lack of experience intimidate you. Remember that employers are seeking hardworking, honest individuals who are willing to grow professionally. Whichever job you find, will provide you with opportunities to gain experience and learn the ins and outs of driving professionally. Traits like responsibility, leadership, dedication, initiative, and professionalism can make all the difference. Remember, the difference between CDL drivers and most other jobs is that you are an independent contractor, until you sign a contract with a company. This means that you have an advantage on the bargaining front if you have the skills to back it up.
So get out there and explore your options! Be brave, sell yourself as the perfect candidate and you will be sure to land the perfect position!