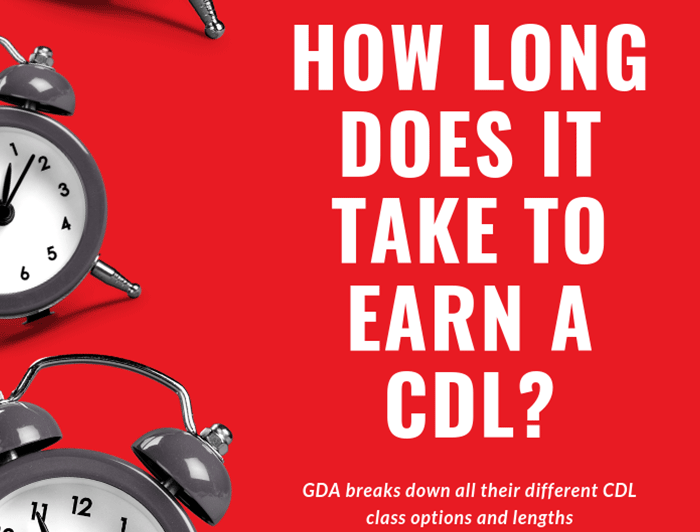 How Long Does It Take To Get A CDL?
CDL Training Programs at GDA
If you're looking for a rewarding career in the trucking industry, classroom and on-hands training is not a long, drawn-out process. At Georgia Driving Academy (GDA), we prepare you to become an excellent driver. Many companies trust our curriculum to train the drivers they want to join their team.
Class A CDL Course Total Time: 180 Hours
With the Class A CDL, you will be able to drive the big rigs, locally and over-the-road. When you become a truck driver, you become a part of a country-wide team that keeps our country moving. If you look at the 180 hours in a matter of 40 hours per week, you can be ready for a new career in the trucking industry in 4.5 weeks.
There is a lot to learn, and we have perfected our course since our beginnings in 1995 with our state-of-art classroom study followed by what every truck driver must know along the roads. If your schedule makes it hard to attend an on-campus class, we have designed two online-curriculum options.
60 Hours: In-Classroom on GDA Campus
120 Hours Hands-On: From the Driving Range to Road Training and Testing
Class B CDL Course Total Time: 70 Hours
You don't have to drive the eighteen-wheelers to have a rewarding commercial driving career. The Class B CDL will prepare you to be ready to drive a Motor Coach Class B rated bus or a 26-foot straight truck. Class B commercial drivers also keep America on the move. In less than two weeks, you can be ready to start a new career.
70 Hours In-Classroom and Hands-On
GDA Brings the Driving Jobs to You
We know that preparing for a rewarding, driving career is why you have come to the Georgia Driving Academy, and we have gained the respect and trust of many regional and national companies. Part of our commitment to you is to help you find the driving career that is right for you. It's always exciting on a GDA campus, and we're ready to answer any questions you may have. Let's keep America on the move.