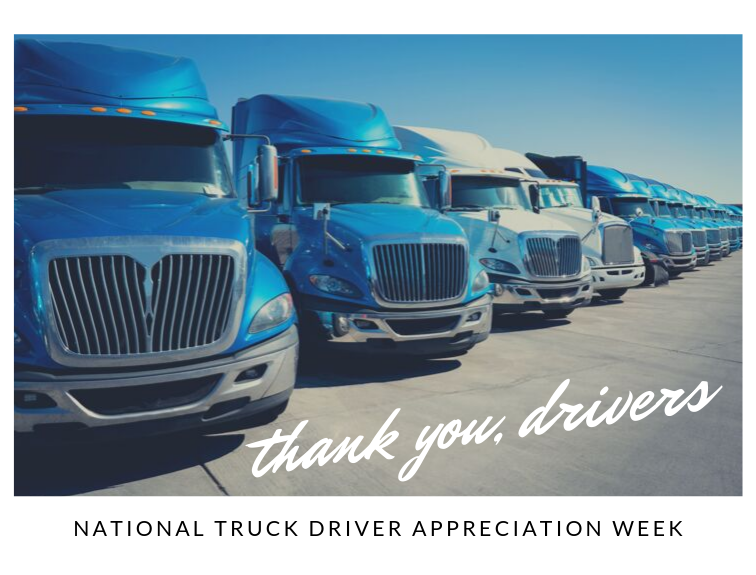 It's Truck Driver Appreciation Week
From Groceries, to Medicine to Car Parts; Thank a Trucker
If it weren't for truck drivers, there would be a lot of empty shelves, and online merchandise orders could not reach our homes. Not to mention, fuel getting delivered to stations to fill our gas tanks, supplies being delivered to build our homes, and so much more.
You don't have to wait until this one designated week to show your appreciation, but we hope you take the time to look at all the trucks traveling our roads. There are a lot of men and women deserving our appreciation for the service they provide to us all.
A Way to Show APPRECIATION Along the Roads and Highways!
Whenever we're driving along the roads and highways, we all see how the trucking industry is moving America. It's so important that everyone keeps safety in mind as we travel the busy roads and highways. Share the roads, and be respectful of America's truck drivers.
Don't cut them off, and please merge onto the highways with safety in mind. If you see there's a semi-truck that's going to hinder your merge onto the highway, let them get by first. They are traveling up to 70 miles per hour, and it's hard for them to slow down fast enough for cars that jump in front of them, especially if you cannot get your car up to speed. See a blinker on, give them the room to move over.
Looking for ideas for Truck Driver Appreciation Week? Here are some great ideas, found on HNI. If nothing else, a nod or a smile with a quick thank-you goes a long way! These hard-working men and women want to reach their final destination and return home. Returning home for long-haul drivers may include weeks of travel. Please be courteous and drive with compassion.
If you have a truck driver in your life, a meaningful and useful gift may be something you're looking to give. PERFECT IMPRINTS  has a list of gift ideas they've gathered to make someone's day, if not her or his year.
Georgia Driving Academy Sends a SHOUT OUT to America's Truck Drivers!
We appreciate America's truck drivers, and it is the importance of their work that keeps the GDA staff instructing and training some of America's best truck drivers.