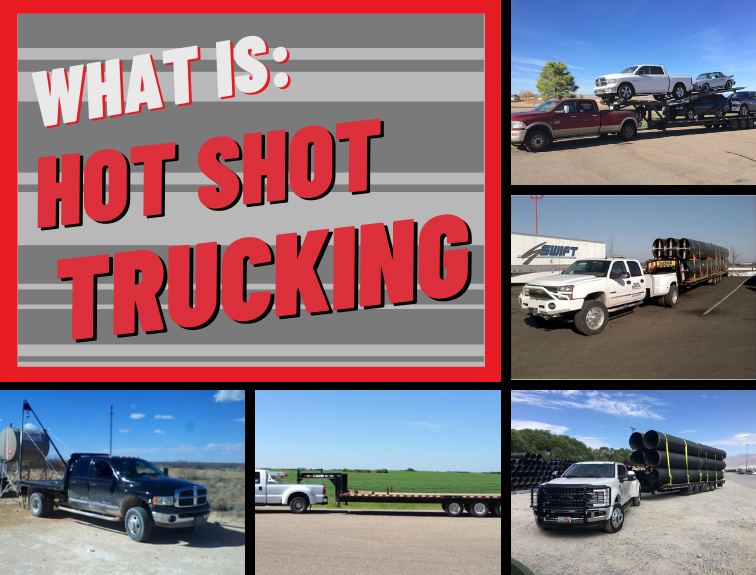 What is Hot Shot Trucking
A look inside the world of Hot Shot Trucking
Hot shot truckers specialize in time-sensitive loads, usually for situations where failure to deliver items within a certain time period could cause problems within the company. The term "hot shot" comes from the Texas oilfields in the '70s, where pickups delivered crucial parts to drilling operations as quickly as possible. It is quickly becoming a valid alternative to traditional commercial truck driving.
Advantages of Hot Shot Trucking
The primary benefit of hot shot trucking is speed. Many people who hire a hot shot truck driver are on a tight deadline and need to get a load delivered as fast as possible. However, the benefits of hot shot trucking do not end there.
Lower initial startup costs
Shorter waiting time due to expedited loads
The money made can be equal or better than Class 8
More home time, since most jobs will be local or regionals.
CDL not required, but highly recommended if transporting larger loads.
Disadvantages of Hot Shot Trucking
While the world of hot shot trucking is full of great benefits over traditional trucking, it does have its drawbacks in the industry.
You handle all of the costs: While the costs are typically less than owning a Class 8, you are still fully responsible for the costs. Such as insurance, maintenance and taxes.
The demand for your services can change: One week you can have a dozen jobs lined up, the next week could be slow and you only manage 3 or 4
 Pressure to Get More Clients: Without the comfort of a carrier, it is on you to find and grow your customer base.
The job outlook is not as high as it is for people operating Class A trucks.
Types of Trucks Used in Hot Shot Trucking
The size and type of truck you drive has a direct impact on the type of jobs and loads you can take. You should also consider things like the gas mileage, warranty, and safety of the trucks depending on the type of hot shotting you would like to do.
-Class 3 (14,001-16,000)
Ex. Ram 3500, GMC Sierra 3500, Ford F-350
 Class 4 (16,001-19,500)
Ex. Ram 4500, GMC 4500, Ford F-450
Class 5 (19,501-26,000)
Ex. Peterbilt 324, GMC 5500, Ford F-550
Types of Trailers
Arguably as important as the truck you drive is the trailer you use. Much like choosing a truck, the trailer you choose to go with also has an impact on the tops of jobs you can take. The type of truck you drive also limits the type of trailer you can use.
Bumper Pull Trailers
Gooseneck Trailers
Deckover Trailers
 Lowboy Trailers
Is it right for me?
Hot shot trucking is a unique take on the traditional trucking industry that can provide you with many opportunities for success. If you are interested in being your own boss, the lower starting costs might be enough to sell you on it. If you think you would like the support system of working for a carrier then a more traditional route might be better. Regardless, hot shot trucking can be a lucrative way to use your CDL and make a great career.