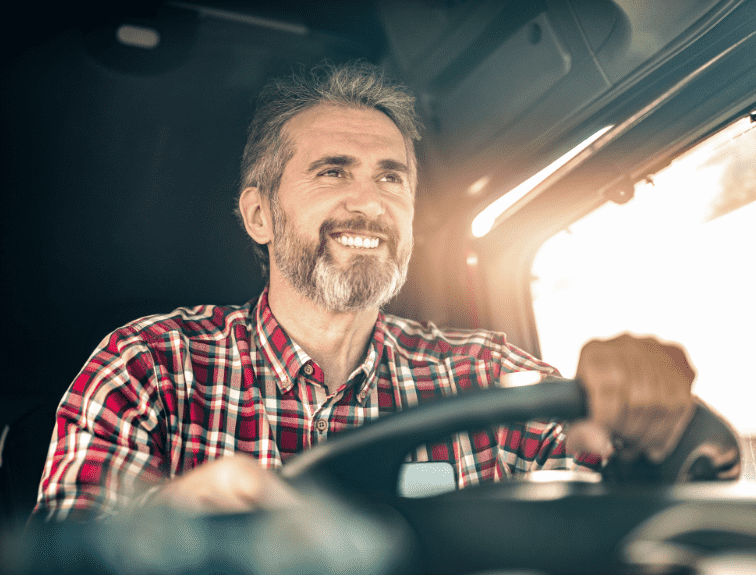 Maintaining a Healthy Lifestyle as a Truck Driver
Tips for managing truck driver health while rolling across the country
Professional truck drivers spend most of their career behind the wheel, keeping America's roads safe while delivering essential freight for consumers. In fact, many drivers can spend up to 11 hours a day delivering loads. This repetitive cycle, limited food options, and fluctuating work hours can make finding ways to stay healthy difficult.
Thankfully, there are multiple ways to maintain a healthy lifestyle as a professional driver. Keep reading to see what tips you can start taking to keep your health a priority as you take on this new career!
Start a Healthy Lifestyle with a Well-Balanced Diet
A Center of Diesel Control study found that 7 out of 10 long-haul truck drivers were obese – that's two times more than U.S. adult workers. The options readily available to drivers in truck stops can be high in fats and sugars, which, combined with previous factors, can lead to health problems, including diabetes, sleep apnea, heart disease, and stroke.
There are several ways to maintain a well-balanced diet and help build a healthy lifestyle while on the road. Those include:
Keeping high protein and low sugar snacks on hand. Nuts, trail mix, granola, and fresh fruit or veggie packs are great options. Natural brand jerky, protein bars, and portable tuna or chicken pouches are also readily available at most stores and offer quick power packs of protein.
Staying hydrated by drinking plenty of water. At a truck stop, it is easy to reach for a sugary soda or juice. If consumed regularly, it can lead to dehydration on the road. Make it a point to limit your caffeine intake, and keep a few water bottles handy at all times, refilling them at every stop. Alternatively, a refillable water bottle such as a Hydroflask or Yeti can keep your water cool longer than a typical plastic bottle.
Supplementing your diet with multivitamins can prove helpful if getting your recommended nutrients and vitamins becomes challenging.
Lastly, small electrical appliances such as a slow cooker, air fryer, or portable stove can help you save money and create a meal prep schedule. There are many recipes online that you can prepare and leave to cook while driving. After you stop for the day, your meal will be ready to eat!
Find Time to Keep Fit*
Growing evidence suggests prolonged sitting in the driver's seat can be hazardous to one's health, raising risks for muscle pain, cardiovascular diseases, and metabolic syndrome. Luckily, there are ways to keep a healthy lifestyle by getting active after long driving days. These exercises don't require any extra equipment and can be completed at your own pace.
Cardio – Doing laps around your truck is a great way to get your cardio. You can reach a half-mile walk by lapping the length of your tractor-trailer 16 times and 32 for a full mile. This effective workout allows you to stretch out your legs, get the blood flowing through your body, and get your heart pumping!
Push-Ups – This minimal-space exercise uses your body weight to work your upper body and core. Not only will you be increasing your strength, but you will improve your posture and flexibility. A great time to participate in this exercise is before starting your drive.
Triceps Dips – This exercise is the way to go if you want to activate the triceps muscles in your upper arm. To start, ensure you're parked in a lot with ample space. Then, using the ground or steps on your truck as support, bend your elbows to lower your body and then return to the starting position.
If you prefer to execute your workouts indoors, signing up for a gym membership may be beneficial. Planet Fitness offers plans as low as $10 a month and provides locations nationwide. Another alternative is to search online for free workouts supplied by content creators or low-cost on-demand virtual classes from companies such as FitFusion.
Keep a Healthy Lifestyle by Relieving Stress
Similar to any profession, truck driving can bring about stress and loneliness. These consequences can severely impact your mental health, which is vital to keep in good shape. When possible, take home time to visit your family and friends. If you spend several days on the road, check in with loved ones via phone or video calls. Although short, these small steps can help keep your head and heart focused and continue building a healthy lifestyle.
While on the road, listening to your favorite music and podcasts can help foster a calmer mindset. When parked, keeping yourself entertained with online games, watching your favorite movie, or catching up on new shows can also help you relax and clear your mind before taking a well-deserved rest.
Get A Good Long Sleep
Speaking of sleep, good rest is essential to maintain a strong focus and stay safe while driving. It may be hard to find on the road, but it is not impossible. Many trucks include a twin-sized bed used for overnight sleep and daytime power naps. If you encounter problems falling asleep, try a white noise machine or buy a pillow suited to your sleeping style. A mattress topper can also help elevate the bed's comfort.
Learn About This and More with GDA's CDL Training
Maintaining a healthy lifestyle is just one of the many topics covered in Georgia Driving Academy's CDL Training Programs. Our experienced driving instructors help our students master all aspects of the truck driving profession through a combination of classroom and behind-the-wheel instruction. Our effective teaching methods have helped thousands of professional drivers begin their successful careers. We also offer Financial Aid and Job Placement resources to all qualified students.
Interested in learning more? Fill out the form on this page, or contact us to speak with our Admissions team today!
*Please consult your physician before beginning any exercise program