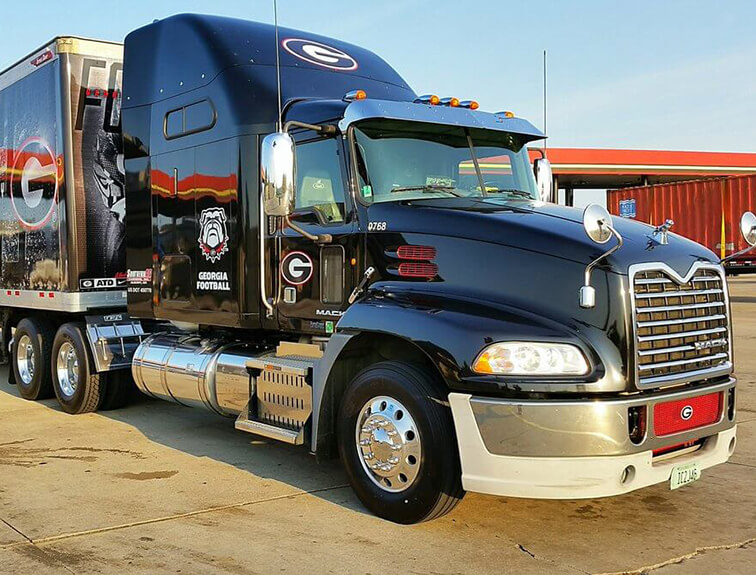 Use Your CDL to Work for a College Football Team
A New Way to Use Your Class A Commercial Drivers License
For many of us, once the calendar says September, the only thing on our minds is the start of college football season. While for the fans, there isn't much thought into how the team gets to games with all the equipment they need. The team truck driver is one of the most critical jobs within any college football program. Without these truck drivers, the college football season would never be able to perform at the level it has.
What College Football Truck Drivers Haul?
Each college football team must move all equipment the players, coaches, and staff need every week. This can become a logistical nightmare if a team and their truck driver are not working together. A college football team has dozens of trunks that store anything from team socks to shoulder pads to even weather-dependent gear. There is much more equipment they must still bring that doesn't fit into the trunks either. Other equipment includes kicking nets, water jugs, medical and training supplies, and more. Therefore, many truck drivers who become college team drivers need to have many years of experience in the trucking industry to make sure that everything properly fits in the trucks while at the same time ensuring that nothing is damaged and arrives on time for the game. 
Driving to the Game
Once everything has been loaded into the truck, and the coaches have approved all equipment has been loaded, the driver can start on their way to the game. Depending on where the game is being played, the amount of gear necessary can be different. If the trip is cross country, a team of drivers will ensure that the truck can get to its destination by Thursday night to have everything set up for the Friday practice. This near-perfect timing is executed when team truck driving is implemented for the trip. If the trucks did not make it to the Friday practice in time, the team would have to miss a day of practice, putting them at a disadvantage for Saturday's game. 
Why Do Truckers Choose This Trucking Job
For truck drivers who get their CDL, many don't think about the possibility of driving for their favorite college teams. Many schools reach out to third-party trucking companies to hire drivers; however, recently, there has been a shift in schools hiring drivers to be their full-time drivers. This opens the door for truck drivers to use their CDL in a new experience that can help supplement income. College football truck drivers get the chance to support their favorite team in a way they love, which makes the trip even more fun in the eyes of many.
Begin your Class A CDL training at Georgia Driving Academy today! To find out more about when you can get started, contact us today!